Pears, Pancakes, & Premonitions
Sometimes before you can have the future you've always dreamed of, you have to come to terms with your past. And sometimes that past is harder to face than you thought.  This contemporary romance with a paranormal twist reminds us that running away from our problems never makes them go away and that love can heal all wounds.
This box includes:
Some of It Was Real by Nan Fischer
Banana Pancakes Candle from Fervor Candles
Vanilla Pear Soap  from Wilder & Co.
Cherry Pie Lip Balm from Sister Bees
Apricot Honey Bubble Bath from Whipped Up Wonderful
Mint Chocolate Bath Bomb from Lensik I&V
A themed bookmark
Plus, for each box purchased we'll donate a portion of the proceeds to The National Fund for Foster Children, a non-profit that works to support foster children and foster parents throughout the United States by matching adult mentors and foster kids and working with local communities to support foster families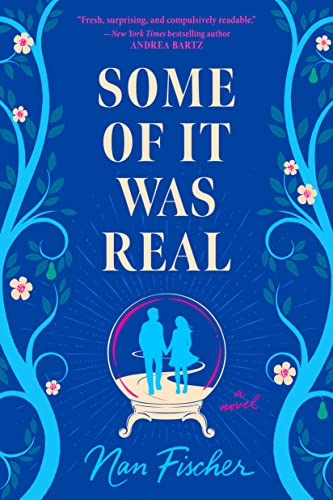 Psychic-medium Sylvie Young starts every show with her origin story, telling the audience how she discovered her abilities. But she leaves out a lot—the plane crash that killed her parents, an estranged adoptive family who tend orchards in rainy Oregon, panic attacks, and the fact that her agent insists she research some clients to ensure success.

After a catastrophic reporting error, Thomas Holmes's next story at the L.A. Times may be his last, but he's got a great personal pitch. "Grief vampires" like Sylvie who prey upon the loved ones of the deceased have bankrupted his mother. He's dead set on using his last-chance article to expose Sylvie as a conniving fraud and resurrect his career.

When Sylvie and Thomas collide, a game of cat and mouse ensues, but the secrets they're keeping from each other are nothing compared to the mysteries and lies they unearth about Sylvie's past. Searching for the truth might destroy them both—but it's the only way to find out what's real.
Genre: Contemporary/Paranormal Romance
Published: July 2022
With the scent of maple syrup and bananas, this is a gourmet breakfast-in-bed if we ever smelled one!
Apricot Honey Bubble Bath
Inspired by one of the many fruits grown on the farm Sylvie grew up on, this bubble bath smells wonderful and looks cute too!
Pears are the staple crop for Sylvie's adopted family farm. It can be hard to capture the delicate scent of pears, but this soap smells delicious and will leave your skin super soft.
Sylvie's first job was in an ice cream shop…and her favorite flavor was this minty chocolate. This bath bomb is made with pink Himalayan salt, cacao powder, almonds salt, and mint essential oil for one sweet bath treat!
Another of the many fruits grown near where Sylvie grew up, this deliciously flavored lip balm will leave your lips smooth and moisturized.
Other Boxes You Might Enjoy