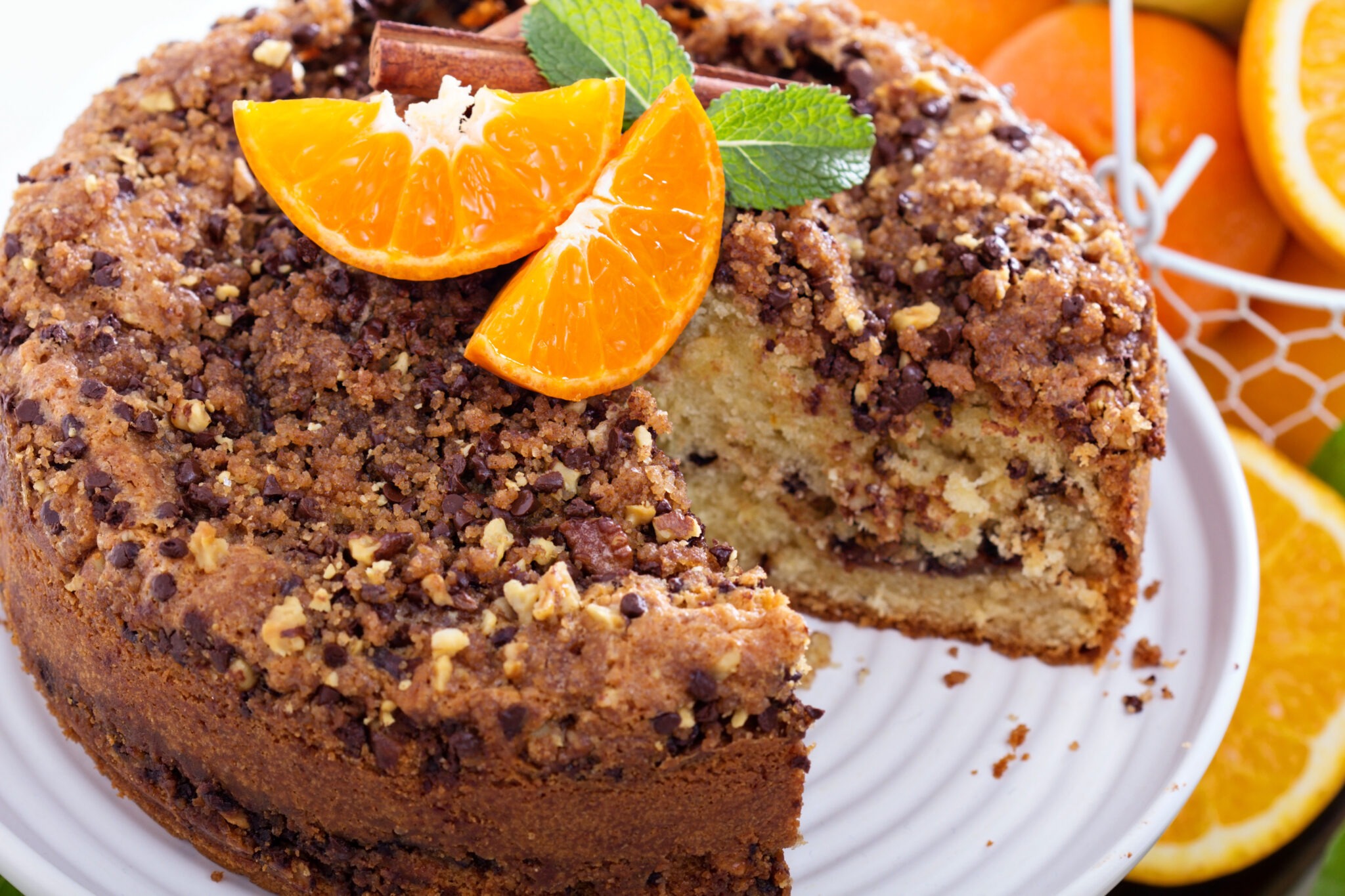 For the Streusel Topping
1/2 cup brown sugar
1/2 cup all-purpose flour
3/4 tsp ground cinnamon
1/8 tsp salt
1/2 tsp ground nutmeg
1/2 tsp clove (optional)
1/4 cup unsalted butter
1/2 cup chocolate chips
1/2 cup walnuts or pecans
For the Spiked Caramel Sauce
2 cups all-purpose flour
1 tsp baking powder
1 tsp baking soda
1/2 tsp salt
1/2 cup unsalted butter, softened
1 cup granulated sugar
3 eggs
8 oz sour cream 
1 ½ tsp vanilla extract
1 tsp finely grated lemon zest or orange zest
"Grace was thoughtful enough to bring over one of my favorite things—wait till you try her kuchen." 
"Kuchen?" 
"German for cake," I said. "It was my grandmother's recipe, and that's what she always called it."
–A Little Bit of Grace by Phoebe Fox
Preheat the oven to 350°F (325°F if using a glass pan). Grease one 9-inch square pan or 9-inch Bundt pan and dust with flour.
STREUSEL  TOPPING DIRECTIONS
Combine the sugar, flour, cinnamon, salt, and spices
Cut in the butter to resemble coarse crumbs.
Stir in chocolate chips and nuts. Set aside.
KUCHEN DIRECTIONS
Sift together the flour, baking powder, baking soda, and salt.
In a large bowl, beat the butter until smooth, about 1 minute. Gradually add the sugar and beat until light and fluffy.
Beat in the eggs, one at a time.
Blend in the sour cream, vanilla, and zest.
Stir in the flour mixture.
Spread half of the batter in the prepared pan.
Sprinkle with half of the streusel.
Carefully cover with the remaining batter and sprinkle with the remaining streusel.
Bake until the cake is golden and pulls away from the sides of the pan, about 50 minutes.
Set on a rack and let cool in the pan for at least 15 minutes.
Serve warm or at room temperature.
Store kuchen wrapped in plastic wrap or in an air-tight container for 2 days at room temperature or up to 3 months in the freezer.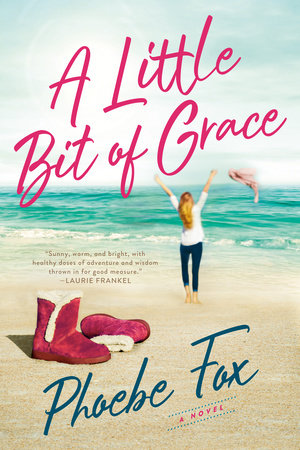 Family is everything—Grace Adams McHale's mom must have said it to her a thousand times before she died. Before Grace's dad ran off with an aspiring actress half his age. Before only-child Grace found out she was unable to have children of her own. Before Brian—her childhood best friend, business partner, and finally her husband—dropped a "bombshell" on her in the form of her stunning new replacement.


Which means Grace now has…nothing.
Until she receives a letter from a woman claiming to be a relative Grace never knew she had, sending her on a journey from the childhood home she had to move back into, to a Florida island to meet a total stranger who embraces her as family. There, Grace starts to uncover answers about the eccentric woman her family never mentioned: a larger-than-life octogenarian who is the keeper of a secret held for more than fifty years, and the ultimate inspiration to always be true to yourself. As Grace gets to know this woman and picks up the pieces of her own shattered life, she is forced to question whether she can find forgiveness for the unforgivable.